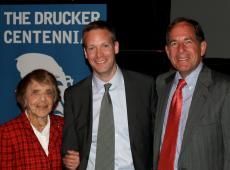 Congratulations to Greg Berman (Fellows Program '93), Executive Director of the Center for Court Innovation (CCI) which was recently awarded the 2009 Peter F. Drucker Award for Nonprofit Innovation. CCI was given this prestigious honor for its commitment to innovative solutions to achieve "problem-solving justice", the idea that the court can and should actively address the problems it faces.
Greg believes that he regularly draws upon his Coro experience, stating "Coro profoundly altered the way I think about how to lead an organization and how to do good in the world. Coro also provided me with a range of useful connections -- including with financial, legal and political expertise -- that I can call upon whenever I get stuck. Coro has helped give me the tools not only to manage a large and complicated organization, but to keep it at the cutting edge nationally."
Read more about this achievement on CCI's website HERE.
The Coro connection comes full circle with Sarah Johnson (Fellows Program '08). Sarah completed her Labor Placement internship at SEIU 32BJ, the largest property service workers union in the country, and after graduating from the program, went on to become their full-time Political Organizer. Now she is giving back to the Coro community by hosting two of this year's Fellows.
"Each Fellow in our office has been a connection to the Coro community and the lessons learned during my year as a Fellow. We share a common body of experience and vocabulary. At the same time, Fellows, notorious for their relentless question asking, have also led me to reflect with a productive level of discomfort on the work that I do. I am grateful to feel grounded in a supportive and challenging community at Coro."
________________________________
We always love to hear about alumni impact. To share any news or achievements with the Coro community, please email us here!